eClinicalWorks EMR Billing FAQ's
eCW user ? We know what's on your mind more than anyone else !
MedicalBillingStar is the billing partner, consultant, and 3AM friend of over 50 eCW users. We have a separate 24/7 helpdesk and a dedicated team to offer eClinicalWorks billing services. A list of the most frequently asked questioned and our answers.   
1. Do you have a separate team for eCW Billing ?
Yes, we do. As we handle the billing needs of over 300 medical practices, that use eClinicalWorks, we have a separate team to offer eCW billing support. They are well trained in the features, nuances and workarounds of the software. Having an individual team for ecw helps us to quicken the billing process.
2. Is there an additional charge for support ? Do you charge set-up fees ?
The answer is a happy no for both ! We do not charge a set-up fee to work with your eCW system. You save on the 300$ it takes to set up an account, by working with us. Our 24x7 support, by certified professionals is offered at no cost at all.
3. Is there a Minimum Billing volume I need to stick to ?
MedicalBillingStar offers highly scalable support. There is no monthly minimum billing volume to work with us. We understand that the monthly volume is dependent on several parameters, such as number of patients, no-shows and other variables.
4. Do you handle Patient Collections ?
MedicalBillingStar is widely regarded as the most patient friendly billing company ! We send out easy to grasp patient statements through the eClinicalWorks Patient Portal feature. Patient statements are sent out within a week of the patient's visit. Collection letters are sent within a month. Our toll-free number is included in every statement and we have a 24x7 helpline.
We walk the paces with your patients to help them make secure online payment through Patient Portal. 
Yes. We initiate our eClinicalWorks billing process after a thorough analysis of your existing workflow. Our, team accesses your eClinicalWorks EMR, and perform thorough, financial analysis. We eliminate the cracks in your system and identify potential revenue boosters prior to starting our billing process.
6. Do you record calls made to my patients ? Where are they stored ?
Every phone conversation we make to your patients and insurers is recorded. The conversations are mailed to you as mp3 files, according to your convenience. Details of the conversation can be found in your Telephone Encounters window of eCW. You can also request a transcript of the same.
7. Can you help me set up Superbills ?
Most physicians find technical jargon and rules, intimidating. MedicalBillingStar is always at their side to make working a better experience. We've helped practices using eCW set up practice specific superbills. We earmark the CPT, ICD and E/M codes most used in your practice. We create new and separate code groups.
8. What is the edit level you are comfortable with ?
We can work with any edit level provided to us. We usually work with the NP/PA edit level access.
9. How do you transmit claims? Do you work with paper claims ?
We electronically transmit claims, efficiently and swiftly using the eClinicalWorks electronic claims transmission feature. We work with paper claims too and adhere to nubc norms. All our electronic transactions are HIPAA 5010 compliant.
10. How do your costs compare with that of my eClinicalWorks practice management services ?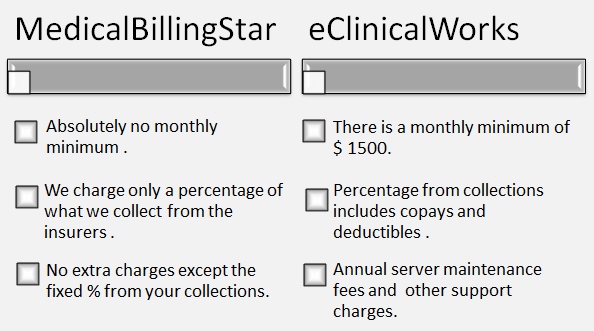 Rate Card From our Medical Billing Experts
Dial Toll free @ 1 - 877 - 272 - 1572 or fill out the form here for smart EMR solutions.
View Larger Map
2631-A NW 41st Street, Gainesville, FL-32606, United States.
Blog Updates
ACO Wars – Pioneer vs Shared Savings Programs
About 25% of the Pioneer registered Accountable Care Organizations are in the process of exiting the program
Read More
A Few Survival Strategies For Healthcare CFO's To Handle 2014
Time for healthcare CFO's to step up their plate!2014 is going to be a year of change.
Read More
Forget The Incentive. Can Your Practice Escape MU Penalties ?
How do you avoid MU penalties ? There is just one way, demonstrate meaningful use.
Read More
Smartphones Can Help Your Practice To Achieve MU !
What do you do when you go meet a physician ? Explain in detail about your medical history and pray that you haven't left out anything.
Read More
Can Healthcare IT Help Physicians In Increasing Patient Collections ?
Are you neglecting patient collections? Technology to the rescue !
Read More
Complicated Crosswalks, More Codes And Stricter Documentation Requirements. But ICD 10 Is Not The Loch Ness Monster !
Are you ready to get cracking on ICD 10 ? The deadline for adopting ICD 10 is inching a little closer every day !
Read More
Is It The Insurer's Responsibility To Pay Out Of Network Physician Providers?
The answer is an obvious "yes". But most medical practices tiptoe around the out of network issue. It could be because reimbursement policies and healthcare regulations are so complicated;
Read More
How Can Misinterpreted ERA's Affect Your Medical Practice ?
Being a part of a busy medical practice means there is no time to sit and analyse. Most medical practitioners hardly have enough time to communicate with insurers.
Read More
11 Ways To Ensure You Join The List Of Successful EHR Implementation Stories !
To start on shaky ground can sour your relationship with an EHR forever. Being hasty can prove to be disastrous.
Read More
Don't Fumble Your Way Through EHR Implementation !
Choosing an EHR is tough. A zillion glossy brochures, well-meaning colleagues and pushy sales persons only make the decision harder.
Read More